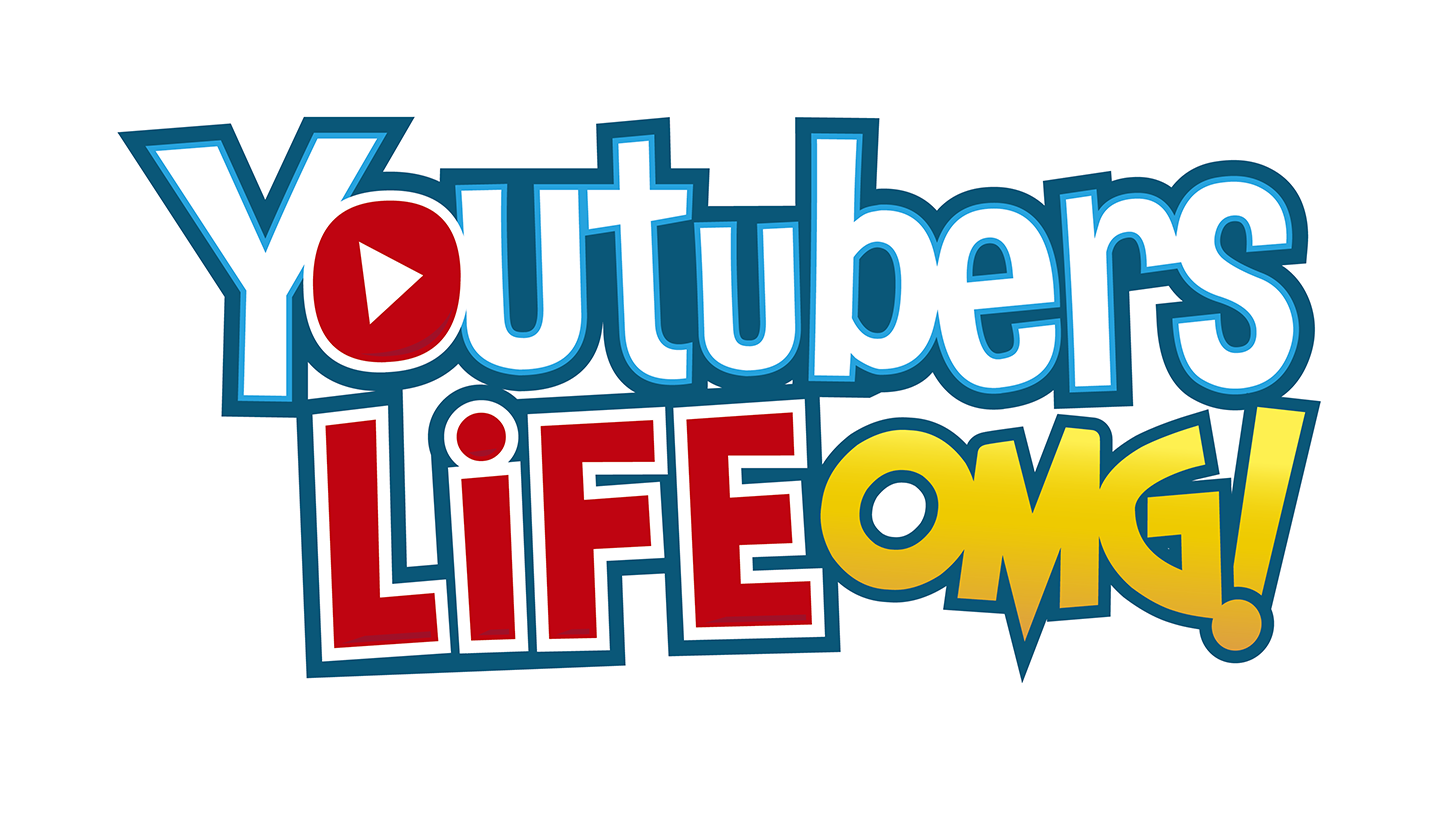 Factsheet
Developer:
U-Play Online

Release date:
| | |
| --- | --- |
| PlayStation 4: &nbsp | 20 Nov 2018 |
| Xbox One: &nbsp | 20 Nov 2018 |
| Nintendo Switch: &nbsp | 20 Nov 2018 |
| PC: &nbsp | Update on 11 Dec 2018 |
| iOs: &nbsp | Update on 11 Dec 2018 |
| Android: &nbsp | Update on 11 Dec 2018 |
Platforms:
PlayStation 4
Xbox One
Nintendo Switch
Steam (PC/Mac)
iOS (iPhone/iPad)
Android

Website:
youtuberslife.com
Price:
| | |
| --- | --- |
| PlayStation 4: &nbsp | €29.99 / $29.99 |
| Xbox One: &nbsp | €29.99 / $29.99 |
| Nintendo Switch: &nbsp | €29.99 / $29.99 |
| Steam: &nbsp | €24.99 / $24.99 |
| iOS (1st channel): &nbsp | €8.99 / $8.99 |
| Android (1st channel): &nbsp | €8.99 / $8.99 |
Age Ratings:
| | |
| --- | --- |
| PEGI: &nbsp | 3 |
| ESRB: &nbsp | 10+ |
Languages:

English

Spanish

Portuguese

Deutsch

Français

Italian

Russian

Description
Youtubers Life OMG is the ultimate life simulation game in which you can become a famous youtuber! Launch your new venture from your parents' house and gain your first subscribers, views and likes. Start sharing your life through social media and dealing with your passionate fans and haters alike. Soon, you're well on your way to fame and fortune as a popular influencer. Monetize your content, sign with exclusive networks and customize your place with the coolest stuff. Grow until you can afford a mansion in outer space!
History
We gave birth to the idea of developing a videogame based on the world of youtubers by combining our expertise in sports management games (Striker Manager, Basketball Manager) and the success obtained in our game Karmarun (available on iOS and Android), which was sponsored by the top Spanish speaking videobloggers Elrubius, Vegeta777 and Willyrex, among others. We felt that to begin with the best platform to capture the spirit of our project was Steam. Our main references were Game Dev Tycoon, a game which puts the player in the role of a videogame programmer, and the all-time classic The Sims.
Features
Character customization.
Three career paths available: Gaming, Music and Cooking.
Video editing.
Make money with your videos.
Manage your production studio.
Hang out with your friends, go to parties and attend industry events.
Love.
Reply to your fans on social networks.
Create your own creators network.
Move to a new house, an office or even a mansion.
Decor your place.
What's New
Become a famous gamer in the Gaming Channel Record gameplays, reviews, speed runs, walkthroughs… Collect all the consoles across all generations, play your favorite titles and develop your own video games!
Play your own compositions in the Music Channel Play 30 different instruments and more than 10 music genres. Publish covers, lessons, duets, compose the catchiest songs and give exciting live concerts!
Cook the tastiest recipes in the Cooking Channel Create new, exotic dishes from different gastronomies. Upload tips, tutorials and collaborative dishes, become an experienced chef and work in your own restaurant!
New cards, images and expressions to personalize your videos.
A new moral system in place: subscribers wishes linked to channel content, social media publication and public appearances.
Brand new quest givers.
Deeper connection with followers on social media with posts, hashtags and answers
More impactful comments on your videos that grant new bonifications and insights on your subscribers.
More control over collaborators.
Closer relationship with networks thanks to new ways to approach them and an original commission board.
Redesigned HUD adapted for PlayStation 4, Xbox One and Nintendo Switch.
Balanced economy to improve the climb to fame!
Improved task system to ease the management of your youtuber's life.
---
Videos
Youtubers Life OMG - trailer YouTube
---
Images
---
Logo & Icon
---
---
Articles
"An enjoyable management game based in a trendy phenomenon such as being a youtuber. A simple and perfectly orchestrated game"
- Jose A. Rodríguez , IGN
"It's zeitsgeist-y as f**k"
- Nathan Grayson, KOTAKU
---
What youtubers thinks about Youtubers Life!
"This just looks really, really awesome" DanTDM
"It seems so glamorous I couldn't resist to play it" iHasCupcake
"I didn't realize I was recording for so long!" jacksepticeye
""This is so cool, OMG!"" PrestonPlays
---
Additional Links
Raiser Games
Raiser Games is an international boutique publisher for console, PC and mobile games. Part of Webedia -a multinational group owner of leading entertainment companies such as top games websites and main influencers agencies around the globe- Raiser Games has built a new ecosystem by publishing games that can inspire youtubers to create immersive content, benefit from the group strengths, especially promotion from social media influencers and popular streamers. raisergames.com.
---
About U-Play Online
U-Play Online
U-Play Online is an independent video game studio based in the city of Barcelona, Spain. Founded in 2009 and staffed by videogames and sports lovers, U-Play Online focuses on creative projects that combine classic playability values (management, runner, puzzle...) with the best of online gaming. They are creators of the superhit Youtubers Life (Steam, iOS and Android), the first and best youtuber simulator available on any electro, reaching the top 100 best sellers on Steam in 2016. The studio has also developed franchises such as Striker Manager, Striker Soccer, Swipe Basketball and Train Crisis, among other titles, which have been enjoyed by more than 50M users worldwide on multiple platforms (PC, iOS and Android).
More information
More information about U-Play Online, our logo & relevant media are available here.
---
Youtubers Life OMG Credits
CEO
Jordi Torras
Producer
Samuel Asín
Development Director
Quim Garrigós
Lead Game Designer
Joel Servitja
Game Design
Ignacio Castanera, Quim Garrigós
Lead Artist
David López
Artist
Joan Centellas, Jordi Pla, Samuel Delgado, Jordi Gorriz, Roger Calvet, Jorge Barrero, Marc Valls
Animators
Jordi Molas, Jorge Martín Galindo, Javier Prados, David López
Lead Programmer
Àlex Cabrera
Programming
Marc Guirao, David Conangla, Jaume Fàbrega, Quim Garrigós, Pedro Ruiz, Galdric Borràs, Isaac Obradors, Raul Román, Ibai Ramírez, Álvaro Ricón R.
Music, Voices, Sound Effects
Aurélie Raoût, Meritxell Ribera, Ricard Serra, Dash Obradors
Marketing
Jordi Torras, Albertino Robelló, Ignacio Castanera, Albert Asín
Testing
Genís Frigola, Jorge Martín Galindo, Roger Calvet, Pep Sánchez, Jarred Peebles, David "RexiikCZ" Konvičný, Filip "WaRToNCZ" Konvičný, Mathew "solarplays101" Ratcliffe, Gamaliel Aguilar, Alan Cohen, coffesmoker, Dustin "Baromeus" Grünewald, Clayton "Neo Blackheart" Sawyer
Localization
DL-Multimedia, Ikami Taiwendo and team, Golden Pen Team, Armand Arondeau, Maxime Maussion, Riccardo Ruspoli, TeknoForza Türkçe Çeviri Ekibi, CZPortal4Gamers.EU, FewdsPuck
Raiser Games

Managing Director
Pablo de la Nuez
Executive Producer
Elena Guzmán
Marketing Manager
Pablo Seara
Assistant Producer
Guillermo Monserrate
QA Tester
Jaime de la Puente
Special Thanks
Guillermo Aguilera, Tània Tomàs, Samuel Molina, Xavi Robles and Boni, Ferran Bartumeus, Martí Garrigós, Isaac Viana, Gina Zero
Contact
---
presskit() by Rami Ismail (Vlambeer) - also thanks to these fine folks